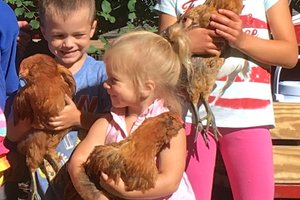 We are currently open by appointment only - if you'd like to come visit please contact us! Enjoy meeting our animals in several petting areas. Kids can play in the sandbox and on the swingset in addition to other games. Check out our "primitive area" to learn about the olden days.
While we offer hands-on activities for people of all ages, it's also a peaceful space for adults to relax while kids burn off some energy. The farm has hiking trails, petting farm, hands on learning, pond ecosystem, and more. We hope visitors will gain an appreciation and respect for the impact that the natural world has on his/her life and farm life as well as the impact on the natural world. (the pond & trails are not open for season yet)
Admission is $8/adult, $4 for age 15 and younger - the maximum for a single family is $24
Is a farm atmosphere with a barn setting and magnficent scenic views exactly what you've dreamed of? Brown's Ridge Family Farm is the perfect location for special celebrations! We would love to help you plan the wedding. Please email us with your date request a - booking 2023 and beyond at this time.
May-October (weather permitting) we can help you host your function in our barn or at the picnic tables. With a safe play area and plenty of open space, there are many options! If you have a business or organization meeting, girl scout or boy scout meeting, bar mitzvah or bat mitzvah, training meeting, or anything else, we'd like to help!
We love birhdays and can help you throw a party to remember! Parties are two hours long, include use of the function space, access to petting farm and farm space, and includes 1 staff member and plates/utensils/napkins for up to 15 children. We can work with you to customize for his or her speical requests!
Please CLICK HERE for more information
SPECIAL EVENTS - WEDDINGS
There's nothing better than fresh maple syrup on your pancakes in the morning! Add a little honey to your tea and it's pure bliss.
The taste from farm pasture-raised chickens and pigs simply cannot be compared to what is bought at most supermarkets. Not only does it taste amazing but its better for you!
We currently have honey and pork products available, please contact us for details! Products are available for purchase thorugh our farmstand/farm store when we are open.
888 Griffiths Way,
Mainland ML12345
888 Griffiths Way,
Mainland ML12345